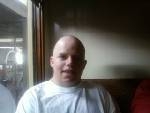 Tyler's Story
Birthday: May 10, 1991
Location: Odessa, Texas, USA
Diagnosis Date: Jan 11, 2010 confirmed Jan 20, 2010
Type of Sarcoma: Osteosarcoma
Tumor Site: Left Distal Femur
Age at time of Diagnosis: 18 years


Hospital:
Cook Children's Hospital, Fort Worth, Texas


Oncologist:
Dr. Akers


Surgeon:
Dr. Williams, UT Health Science Center, San Antonio, Texas


Diagnosis Experience:
October 2009- Tyler went to the doctor and mentioned as a side note that his knee hurt. They told him to take Aleve, might just be over worked. November 2009- Returned with knee still hurting, prescribed prescription anti-inflammatory. December 2009- Back to the doctor, it still hurts, ordered an x-ray. They did not see anything. His knee was very swollen and the pain showed with every step. We pushed the doctor until they ordered an MRI. Because of his work schedule it was performed on Saturday, January 9, 2010. Monday January 11,2010- I was at work when my cell phone rang from the doctors office, Tyler had already turned 18, had to get his consent to talk to me. He tried to call Tyler but he didnít answer. (he was working overnight shift that week) The doctors office called me back, said that it was too important not to get the ball rolling. They saw a rapid growing infiltration in the bone; needed to have blood work, get a CT scan. I instantly knew what it was, I felt it. I called his father in Big Spring from the bathroom at work, trying to keep it together, but still knowing exactly what it was. I work at the same place as Spencer Taylor's Grandmother, so I was familiar with his story. From the first time he said his knee hurt, I pushed down the 'gut feeling' and thought that could never happen, itís such a rare cancer, how could it affect us? I so wish that I could go back and redo not following it. I had my sister meet me at the doctorís office with Tyler for blood work, CT Scan, 01-13, orthopedic surgeon, 01-15, referred to Dr Williams, orthopedic oncologist, 01-19. Admitted to University Medical Center for test and biopsy, surgery 01-20. Confirmed Osteosarcoma. WE spent days walking around numb, not knowing how to react or what to say. Doing the best to keep it together and make decisions and figuring out which way to go and how to handle it all. For the first month, tears were easier to hold back, now they come sometime with out warning. Trying to be strong and let Tyler know that he is strong and we will do what it takes to get this horrible monster out of his body.


Treatment:
January 28, 2010- Dr Akers, Oncologist at Cook's, admitted to the hospital to have a med port implanted on 01-29, start chemotherapy 01-30 Doxorubicin and Cisplatin. This course took 3 days. 02-22 another round of chemo this time Methotrexate, this is a four hour drip, with checking his levels to make sure the chemicals clear from his body before they will release him. He has one more week of this type and then repeat of the first kind before a three week break. He has to be hospitalized for all of his chemo treatments. Tumor removal will be around April 20th if the chemo schedule remains do-able. We choose to keep the original surgeon because Tyler feels comfortable and knows that he already has a plan for limb salvage from his biopsy. We choose to have his Oncologist in Fort Worth for travel and economic factors. We have not regretted the choice of Cook Children's. They doctors and the staff are awesome and very good to Tyler.


Life Now:
Tyler had been working for a security company at a chemical company in Odessa. He already graduated and was working full time. He had not been at his job long enough for FMLA, so he was granted medical leave. We do not know how long they will keep him at that status, but hoping that they will be able to hold a position for him for when this is over. He really enjoyed the people and the job. He spends the time when we are home with family and friends. He is working on several different type of hobbies to try to find something to help time pass when everyone has to work.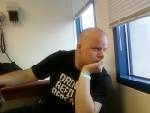 Thoughts: Tyler has made the statement, every thing happens for a reason. He is very positive that he is going to beat this and I pray for the strength to continue to keep faith. The daily struggles of trying to maintain work, family, living and cancer is a challenge. We attempt to take one day at a time, but that is hard when you have to plan for everything that needs to be done. I have no doubt that he is strong and his will to fight is what will keep us all going. Tyler has an older brother, James, and a younger brother, Luke. Tyler & Luke live with me,(Ella,(mom)) Dad lives in Big Spring. When Tyler is in his wheel chair, or on his crutches, young kids and older boys will ask him what happened to him. Itís like he has a face that lets the older ones know it's ok to ask. He will quickly reply, 'I got cancer man, it sucks' then he will chat with them and answer their questions. It's a sight to see him do that for the kiddo's and it makes me very proud to see how strong he is. I don't know that I could be so strong.
Click Here to Return to Faces of Sarcoma Home Page