Taylor's Story
Birthday: June 11, 1995
Location: Alabama, USA
Diagnosis Date: September 5, 2006
Type of Sarcoma: Osteosarcoma
Tumor Site: Right Humerus
Age at time of Diagnosis: 11 years


Hospital:
Children's Hospital Birgingham


Oncologist:
Dr. Nicole Bryant


Surgeon:
Dr. Herrick Siegel


Diagnosis Experience:
Our daughter Taylor was diagnosed with Osteosarcoma on Sept 5 2006. Taylor had complained on and off a few times through the summer with arm pain, but was on the swim team and we thought it was just because she was swimming so much. The week we took her to a local friend that was an orthopedic Dr., she complained every day. The end of August 2006 X-rays were taken and we were immediately referred to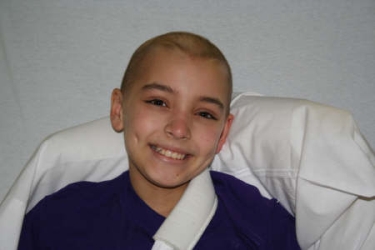 Children's hospital for further evaluation. The following Monday we were at Children's. Taylor had a MRI, Bone Scan, CT scan, full body x-rays, and blood work. We were then sent to a local surgeon who ordered a biopsy of her right humerus for that Wednesday. We were told we would have to wait five days for biopsy results, and this just happened to fall over Labor Day weekend. On Tuesday Sept 5th 2006 I received the phone call no parent ever wants to get, the results were malignancy with diagnosis of Osteogenic Sarcoma. Taylor was at the hospital the next day for a port placement and chemo started the day after that.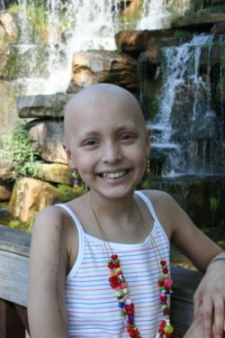 Treatment:
Taylor underwent 10 months of chemotherapy, Adriamycin, Cysplatin and Methotrexate. Taylor had a feeding tube placed in her stomach after two months of chemo due to such a rapid weight loss. Her first reconstruction was Dec 2006 with a placement of an Allograft, titanium rod, steel plate and screws. All of Taylor's treatment was in-patient, and thank goodness for that. She was so very sick from chemo, lost 16 pounds in a very short time, and was extremely weak. I was very pleased with her Doctors and all the staff at the hospital. During Taylor's diagnosis and treatment there were three other children diagnosed with Osteo and in treatment at the same time. During Taylor's treatment she did have to miss all but about 6 weeks of school, but was able to keep up enough to pass to the seventh grade.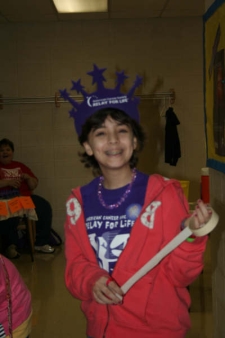 Recovery:
Taylor finished her chemo in the end of May 2007. She began physical therapy in June and continued it until August of 2007. Taylor still has limited use of her arm, mostly in her shoulder; she can't raise her arm over her head. Even though she has limits it does not stop her from doing most anything she wants to do. She did however quit the swim team, which I was sad to see because she was so good, but she says she can't keep up with the other swimmers with her limitations in the rotation of her arm. The only side effect she seems to have right now is stomach issues. Taylor has had lots of reoccurring stomach pain since she finished chemo. Her Oncologist put her on Prilosec in March and it has really seemed to help. If it works we will continue it.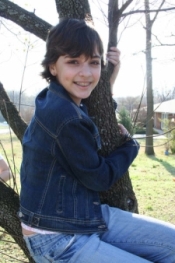 Life Now:
Taylor has done real well this year in school, considering she missed a year. Her grades have been great and she jumped in with both feet like she had never missed a beat. Considering she changed schools this year also, she has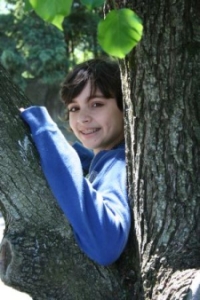 done very well. Her friends and new classmates have all been great and very understanding; we have been very fortunate with everyone including her teachers. Taylor just had a second surgery to correct part of her reconstruction last week. A bone graft had to be placed because her bone was not engrafting to the donor bone. Taylor's last bone scan and CT scan was June 2nd and showed ALL CLEAR.


Thoughts:
These have been the most scary, stressful time of our lives, but we are very blessed to have her here and cancer free. I would not wish this on anyone, but can say we have met some of the most wonderful families, that we would not have met otherwise. We have become very involved in making people more aware of the need for a CURE. I enjoy meeting other Osteo families and learning their stories. I want to be a part of a support system for any family having to go through this. We are very blessed to have Taylor with us and CANCER FREE. Taylor's story can be followed at
www.caringbridge.org/visit/taylorhendrix
Proud mom,

Tammy


Click Here to Return to Faces of Sarcoma Home Page