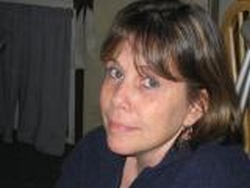 Rhonda's Story
Birthday: July 10, 1962
Location: Maine, USA
Diagnosis Date: April 1, 2003
Type of Sarcoma: Synovial Cell Sarcoma
Tumor Site: Left Knee
Age at time of Diagnosis: 41 years


Hospital:
Goodall Hospital - Maine; Maine Medical Center; Mass General, Boston, MA


Oncologist:
Dr. Hornicek, Dr. Raskin


Surgeon:
Dr. Hornicek, Dr. Raskin, Dr. Goudreau


Diagnosis Experience:
My story begins in the year 2002. Feb. I fell on my left knee, the pain kept getting worse so in Sept I had it looked at. The doctor never did x-rays, just put me on Vioxx and did PT and ultra heated light. This went on until Feb 2003 when the therapist knew something wasn't right so they finally sent me to an Orthopedic Doctor (Goudreau) who set up an MRI. What he saw was a ganglion cyst, so March of 2003 he removed the cyst. Things were good so we thought. I went for my 2 week check up and that is when my life was turned upside down. The pathologist report came back with great concern. They sent it out to Brigham and Women's Hospital in Boston, Ma. for a second opinion. April 1 2003 I got the call to go see Dr. Goudreau right away. I thought it was a joke..of all days April 1 to be told this, it was just unbelievable. I didn't handle this well at first I was in a daze for weeks. The first thing I thought of was OMG here I am 41 years of age and I have cancer...my father was 45 when he passed away from bone cancer. What is going to happen am I going to follow in his footsteps? The second thing that came to my mind were my 2 daughters, what am I going to tell them? Am I going to see them grow and became beautiful young women. Graduate, marry, have kids of their own. The next few days were hard to say the least. Lots of tests, Ct-scans, blood work markers for the radiation that would be done on my leg.

Treatment:
April 2003 was the first meeting in Mass. General to talk about my options. There were 2, amputation or save the leg. I went with save the leg. May-Radiation treatment started - 5 weeks. June - Bad infections set in from radiation burns, I spent 10 days in Maine Medical Center July 25, 2003 was my first surgery-done by Dr. Hornicek/Dr.Raskin.-Extraarticular resection left knee with allograft prosthetic composite reconstruction tibia to femur. Sept 17, 2004 - Open reduction internal fixation of the proximal allograft host junction nonunion with iliac crest bone. In my words: They opened up the tibia area, shaved some hip bone to replace the cadaver bone they used in the first surgery (my body rejected it), put in a plate and screws and covered with my skin as much as possible. Dec. 8, 2004 My leg started to hurt in the site where the last surgery was performed, I had a fever and then green puss started coming out of the insertion. Went to Dr. Goudreas office and he sent me to MMC, I was kept in isolation due to the infecton and not knowing what kind. Cultures done but antibiotics were giving so the true dx of the infections could not be givin. Dec. 11, 2004 Ambulance ride to Mass General from Portland, Me. Arrival at 12am DX infected prosthesis. 9:00 getting ready for debridement That is when I told the Doctor to take my leg I couldn't deal with the pain and more surgery..he said no there was one more thing to try.. 1-wide debridement 2-removal of nodular components-rotation hinge distal femural replacement 3-Irrigation with antibiotic solution 4-VAC sponge placement Dec. 13, 2004 Removal of existing cement spacer, wide irrigation and debridement replacement of antibiotic cement spacers and VAC closure. Dec. 15, 2004 the big surgery - 9 hours 1-Removal of alloprosthetic composite from proximal tibia. Irrigation and debridement. Reconstruction of the proximal tibia with an all metal proximal tibia and cemented stem, rotation hinge total knee replacement 2-Proximal fibulectomy 3-Complex wound closure with medial gastrocnemius flap -medial and lateral hemi soleus flaps and split thickness skin graft. My experience with all my doctors and hospitals were great...I couldn't have asked for better treatment and care from them all. Starting from the beginning to the end.


Recovery:
Many many hours of physical therapy..some good days some bad. I did pool therapy, which was the best. I am limited on a lot of things. Well most things..I am only aloud to walk 1 mile a day. I can use the stationary bike all the time. I can't run or ride a normal bike anymore. I have a stiff left leg. I have to lock the knee with each step I take.(you know the saying you can't walk and talk at the same time) I fall down easy which is a very bad thing to do. When it is icy outside I have to stay in due to falling.(and I live in New England where we have alot of ice and snow). My progress is still in the works after 5 years. I get stronger everyday. Physically and mentally.


Life Now:
I haven't worked in 3 years. I did work right up until my last surgery. I hope to some day go back to school and learn a new career. My family is still very supportive and very protective. We are close in a lot of different ways now then before all of this happened. I have been able to see my oldest daughter graduate from High School and now we are planning a July 4, 2008 wedding. I am very close to my youngest daughter, she is in her 2nd year of HS and I know I will see her graduate also and go off to college. I do alot of sewing/crocheting/reading and I do volunteer for a heart group. I still have faith and determination.


Thoughts:
Never give up! Have faith and determination! When someone wants to help out LET THEM. Go to all your appointments and do what you are told. I have a strong connection with life. Listen to music it is one of the most relaxing ways to realize your thoughts and feelings. Focus on something that you want. And always remember cancer doesn't have to have a hold of you, you can fight back and fight back hard.
Click Here to Return to Faces of Sarcoma Home Page