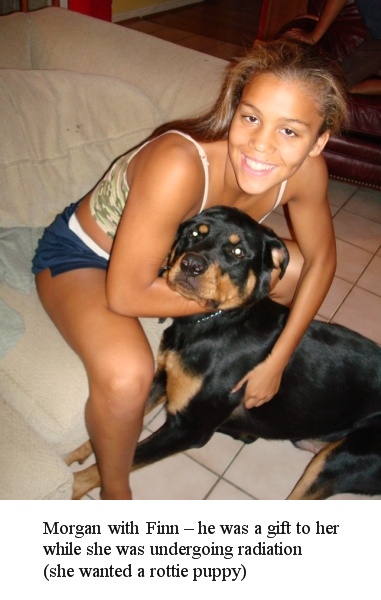 Morgan's Story
Birthday: December 23, 1993
Location: Maryland, USA
Diagnosis Date: February 2006
Type of Sarcoma: Low-Grade Fibromyxoid Sarcoma
Tumor Site: Right Tricep Muscle (upper arm)
Age at time of Diagnosis: 12 years


Hospital:
Children's National Medical Center


Oncologist:
Dr. Robert Henshaw


Surgeon:
Dr. Robert Henshaw


Diagnosis Experience:
One month after her 12th birthday, my daughter Morgan found a lump in her arm in January 2006. The pediatrician sent her to a surgeon at Children's National Medical Center in Washington, DC. He called for a CT Scan and MRI -- when he viewed the scans he said it appeared to be a dense mass, but was optimistic that is was benign. Although he believed it to be benign, he recommended we see a specialist -- Dr. Robert Henshaw -- an orthopedic oncologist -- should it turn out to be something, he believed having Dr. Henshaw as the surgeon would be the best option. As her mom, I was terrified. Dr. Henshaw removed the tumor in early February and the pathology report came back 'gray' -- not conclusively benign or malignant. I didn't know that was a possibility -- but I also was a stranger to sarcoma. He sent specimens to five labs for further testing; four confirmed low-grade fibromyxoid sarcoma, one returned benign. The diagnosis was all consuming. I began researching on the internet and there was very little information. Dr. Henshaw recommended a second surgery to remove additional surrounding tissue to obtain clean margins. He mentioned research that supported a second surgery 6 weeks after initial surgery to boost the immune system in the affected area through production of new healthy cells. Surgery was scheduled. Then Morgan developed a respiratory condition. Her breathing became labored - mimicking asthma. She went to the hospital, but because of the sarcoma, doctors didn't want to use steroids, which is what is typically recommended. They ran a battery of tests, but nothing conclusive. She received back pats every hour to loosen the mucus in her lungs. She was treated by an immunologist who saw her every 48 hours for about 10 days. She returned to good health and the surgery was rescheduled for mid-April. During the second surgery, Dr. Henshaw made a much larger incision (the original incision was less than an inch, the new incision is about 4 inches) and removed 1/3 of her triceps muscle and a tremendous amount of surrounding tissue as he detected two additional nodules in the original site. He attained clean margins. Telling Morgan that it was cancer and there were two additional nodules was extremely difficult. Her response, 'I almost feel sorry for the cancer, it picked the wrong body.' And this was her approach to the entire experience. She was not going to let cancer take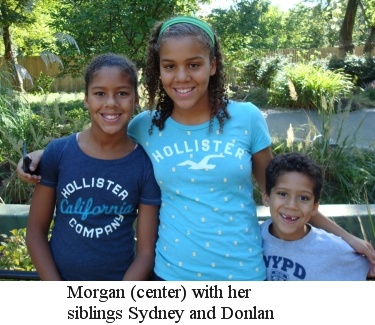 over her life; it had to be dealt with, but there is much more to Morgan than cancer and she refused to let that dictate her life. Throughout this time we relied heavily on prayer from our family and friends. We upgraded our diet limiting sugars, eliminating processed foods and fatty foods, tried to eliminate red meat, and increased fruits, veggies and fish. We have kept to this diet for most part. Fast food is rare in our home. We also took Morgan to a bio-energy healer in Bethesda, Maryland. He has a gift for balancing energy within the body that assists in self-healing. She found the appointments odd, but was open to the experience. Due to her respiratory condition, we opted to have her home schooled through a tutor from February through June. She and I spent a tremendous amount of time together. We took walks every day, read the same books so we could discuss, watched movies. It was an extremely difficult time, but somehow I thoroughly enjoyed that time together.


Recovery:
After the second surgery Morgan received physical therapy prior to starting radiation treatment. Her arm was tight; surgery compromised some of the range of motion. Therapy helped tremendously. During radiation treatment Morgan was tired and her arm looked charred by the end of the 6-week treatment; but she healed quickly and it had no long-term affect.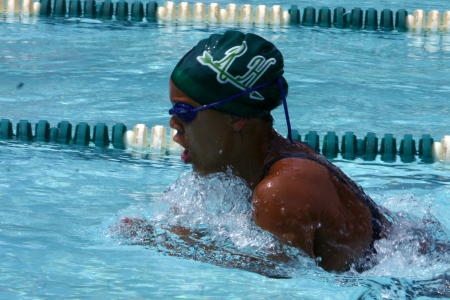 Life Now:
Moving forward to today -- March 2008 -- Morgan is doing great. She has quarterly scans and has been NED since the second surgery. She is a competitive swimmer and returning to the pool was daunting. Her arm tired easily and she had to take Motrin prior to each practice as her arm ached. Over time this has improved -- and her arms are equal in strength. Morgan wants to be either a pediatric oncologist or a cancer researcher.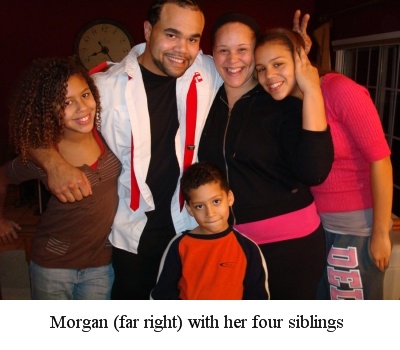 Thoughts:
As a parent of a child with cancer, that diagnosis is shocking, overwhelming and all consuming. Strangely, the same month Morgan was diagnosed, I have a friend whose 3-year-old daughter was diagnosed with a Wilm's tumor. Her daughter had emergency surgery that included removing one kidney. So we both were facing cancer in our children at the same time. We didn't speak often -- just a handful of e-mails to each other and a couple of conversations -- but our reactions were identical and somehow it was comforting to have someone else who completely understood all of the emotions attached to this. I do not wish this for anyone as my hope is that no parent has to face this, but perhaps having the ability to link to others through a website is the next best thing. The internet can be tremendously frightening. Most of the case studies appear to be 'worse case scenarios'. There are happy endings; there are survivors; there is always hope. Morgan started high school this year and is looking forward to a long and healthy journey through life...


Update 12-8-08:
Morgan is doing great. She is 2 1/2 years cancer-free and has moved from quarterly scans to bi-annual scans. She is confident that cancer is a closed chapter in her life but still is committed to becoming a pediatric oncologist. This January marks 3 years since she found the lump in her arm; it feels like a lifetime ago. Keep strong in the fight. There is hope.


Update: 7-13-14
Morgan is entering her senior year at University Of Maryland. She remains cancer free!!! Fear no longer consumes me (her mom) - but I still panic if she finds any odd bump on her body and when she runs a fever. She is a true fighter - training for her first MMA fight August 2014. She fights like a girl - and kicked cancer's ass. There is hope. There are happy endings! God bless all of you facing this battle.
Click Here to Return to Faces of Sarcoma Home Page