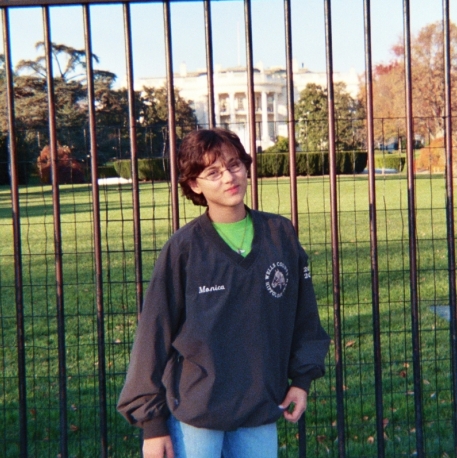 Monica's Story
Hormone Resistant Aveolar Rhabdomyosarcoma
Tumor Site: Chest and Abdominal cavity
Age at time of Diagnosis: 11 years
Date of Diagnosis: May 10, 2004
Location: North Dakota, USA


Hospital:
Merit Care Children's Hospital


Oncologist:
Dr. Nathan Kobrinsky


Surgeon:
Dr. Booth, Dr. Berdine, Dr. Mystry, Dr. Tiagen, Dr. Frisk


Her Story:
Monica was a true inspiration to all who met her. She was diagnosed at age 11 and faced it better then most adults would. When she was asked if she was scared that she had cancer her response was 'You have to face your fears before they take over' 'Live each day as it comes to the fullest because God never promised anyone tomorrow'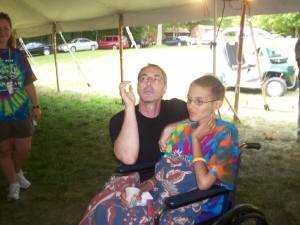 Cancer Experience:
Monica's first surgery was to have the lower half of her left lung removed along with 2 inches of 3 ribs. She then did 6 months of chemo and was given the all clear. At her 1 year check up she was told the cancer was back in the same spot. More chemo to follow and April 16 of 2006 Monica slipped into a coma due to a blood bacterial infection, pneumosistic pneumonia, and a fungal lung infection. 6 weeks later she was awake, aware, and fighting to get out of her bed and the hospital. 2 days later she walked out of the hospital and made it to the last day of school. She had her second surgery in July where they removed a tumor the size of a football and rebuilt her diaphragm with grafts from her stomach lining. She did 6 weeks of radiation daily starting in August of that year. During radiation she continued to go to school and do sports as well. She maintained a 3.79 GPA along with playing for the volleyball team through all of her chemo and radiation. 6 weeks after she finished radiation with an all clear we were told her cancer was back and it was terminal. It had taken over all of her organs. But she wasn't ready to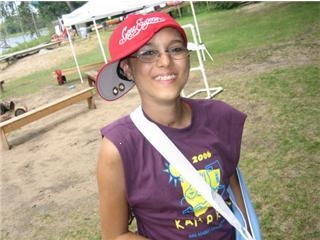 give up yet. She insisted we keep trying anything. She said even if it didn't work for her maybe it would help another kid somewhere else. The staff at the hospital became family to us after 3 years of seeing them day after day, week after week. They were so special to us as she was to them. Monica had one last wish before she passed that her doctors and nurses made possible. She wanted to attend her camp Kamp KACE (kids against cancer everywhere) one last time to tell her friends goodbye in person. She didn't want their last memory of her be that she didn't show for camp. Her doctors and nurses made it possible for her to visit the camp and visit her friends at camp. This was one week before she passed in August of 2007. It was a very special time for her and our family along with her friends. Seeing her smile one more time was so important to everyone she knew.


Monica's Legacy:
Monica had a favorite saying she found in a book called 'I Want to Grow Up, I Want to Grow Hair, I Want to Go to Boise' by Erma Bombeck. 'I'm not sick...I just have cancer'. That was the way she lived her life after diagnosis. She continued with basketball and volleyball during chemo. She would tape a metal eye patch over her port to protect it and off she went to join the game. The team loved having her. She always thought grades were so important and kept her grades up through it all. Even doing homework in the hospital at 3 am because she was awake and the IV pump was beeping wasn't an unusual site for the nurses taking care of her. She was also very active in Girl Scouts and 4-H. She loved horses and was part of a horse judging team through 4-H called Hippology. Her team placed first in all the meets they attended and were listed as the top team in the state. And Monica kept up with it all arranging her chemo around her meets. Monica also started something at the hospital that she felt needed to be done. She loved to make beaded bracelets and necklaces so she would make them in all sorts of sizes and designs and give them to the kids at the hospital. She also started buying little stocking stuffer type things and would leave gift bags full of them for the kids at the hospital for the holidays. She never missed a holiday including the 4th of July and St Patrick's Day. The one thing she asked us to continue was the gifts for the kids for the holidays. She said 'Just because I won't be here doesn't mean the kids have to go without'. So we as a family have kept the gifts going. Another legacy she left us was her love of fishing. We have a lake stocked with plenty of fish two blocks from our house. Monica would spend all the time she could at the lake fishing. Whether she caught anything or not it was her time to reflect on things. When she started having trouble walking and had to use a wheelchair we had to carry her to the fishing spot she liked since the slope was too steep for her chair. So she and my father wrote a grant to the State Game and Fish Dept and it was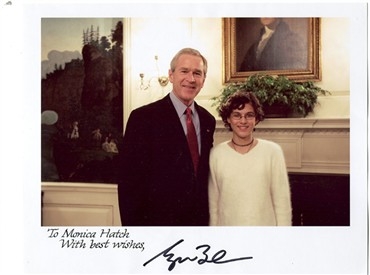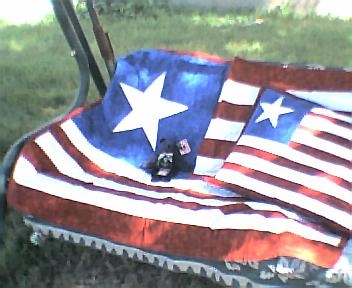 approved to build and place a handicap accessible fishing pier in her favorite fishing spot. She wanted it not just for her but for all those people who love to fish but don't have the balance to stand on a steep slope or can't because of disabilities. That fishing pier will be in place by Memorial Day where it will be dedicated to her memory. She also has a quilt and pillow sham she hand quilted during chemo that she gave to President Bush during her Make A Wish trip that is on display at the Presidential Library with her name and her hometown on a plaque as the one who gave it to them.


Life Now:
Living without her has been hard. Her brother and I take each day as a new day to get through. Knowing she had the impact on everyone she met like we do makes it easier to talk about her to others. To share her life and her story with others hurts but it helps. It hurts because we miss her so much. But it helps because it gives us a way to keep her close to us and to keep the wonderful memories of her fresh in our minds. She will be sadly missed by all and fondly remembered by all who loved her.


Advice:
The best advice I can give to anyone dealing with cancer is to take each day as it comes. Don't look into the future to what could go wrong. Instead look to the future to what you can do the next day or the next week. Look forward to the family and holidays. And don't be afraid to ask for help. Don't be afraid to admit you are scared. And never be afraid to cry.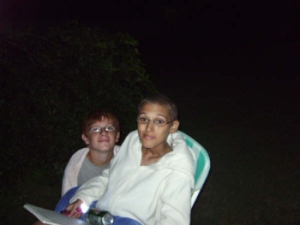 Monica, You were my first-born. You were so beautiful inside and out. The love you showed everyone and everything has come back so much to you. I miss you so much and so does Cody. Your legacy lives on kid...your inspiration keeps on going. You were truly an amazing woman. Much wiser than your years. And still my champion. I love you sweety and say hi to grandpa for me...don't let him catch all the good fish.

Love mom and Cody
Click Here to Return to Faces of Sarcoma Home Page